In the process of starting a business, some customers who demand cost-effectiveness may want to choose to buy a used uv flatbed printer to reduce the initial input cost. In fact, it is not cost-effective to buy a second-hand uv flatbed printer. No matter how long second-hand uv flatbed printers are used, it is not recommended for everyone to buy.
The reason is as follows:
Firstly, uv flatbed printer is a equipment, so after-sales service is very important. It is normal for machines to have problems. The key is how to solve problems after they occur. If you buy a used uv flatbed printer, it is almost impossible for manufacturers to provide you with after-sales service and training instructions, which inevitably adds some extra costs.
Secondly, the price of the second-hand uv flatbed printers are relatively more expensive than the new one. Why? Because the core part of uv flatbed printer is the printhead, and all second-hand uv flatbed printers must have been used. If the printhead is used for a certain period of time, the printhead should be replaced. A new printhead should be about $2500. If you refurbish printer, and ask for guidance, etc.. In fact, the cost is very expensive.
Thirdly, no matter what the reasons of second-hand uv flatbed printer for the transfer, the customer will not tell you the real reason. Besides, maybe he bought a second-hand UV flatbed printer, or the machine he bought at the manufacturer is not original machine, it is even more loss.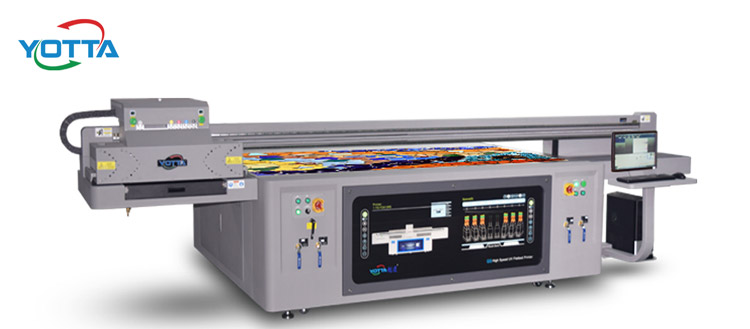 Customers who purchase uv flatbed printers are advised to visit to the brand manufacturers. Not only the quality is guaranteed, but also the after-sales service is guaranteed.
Founded in 2009, Shenzhen Yueda Printing Technology Co., Ltd. is a high-tech enterprise specializing in the R&D and manufacturing of industrial-grade digital printing equipment. Its large-scale digital printing machine independently developed to meet the European and American quality standards.
At present, Yotta provides 4 main series of digital printing solutions:
UV Flatbed Printer, UV Hybrid Printer, UV RTR Printer and Textile Printer. Yotta has developed digital printing solutions that have been successfully deployed within the Decoration, Sign, Packaging, Manufacture and Commercial Print industries, providing diverse product space for customers in different industries.
At the same time, Yotta also provides customers with a variety of services such as accessories, maintenance, investment planning, training, and program implementation.
What guarantees does Yotta UV printer have? Except consumables, the whole machine has a one-year warranty.
Would anyone be responsible for the on-site installation when customer purchased Yotta printer? Yes. Yotta sales printer directly. Yotta will arrange experienced engineers to provide installation and training service when the machine arrives. If it is purchased through Yotta dealers, dealer will send an experienced engineer. Unless otherwise agreed in the contract,customers don't need engineer go to their factory to assist.
What kind of training services can Yotta provide after purchasing Yotta equipment? Yotta will provide free on-site training for about 7 days. The training location can be selected at Yotta company, or it can be selected at customer's site, which can be agreed in advance by the contract.