Printhead cleaning is an essential part that you must to understand if you want to operate a UV printer well. Before cleaning inkjet UV printer head, you should pay attention to the following matters which can make printhead and printer work better.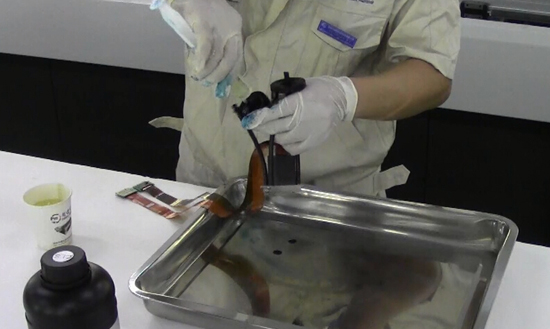 Before cleaning a printhead, the printer power supply must be cut off.
Printhead must be cleaned with its matching cleaning liquid.
Before cleaning, exposed circuit parts must be wrapped or covered to prevent the cleaning liquid from spattering on the circuit board.
When flushing printhead, the liquid must be injected from the filter side to impurities from entering.
The flushing pressure is recommended for 20Kpa, and the maximum pressure value is 30Kpa. Wash UV printhead with a syringe and stop forcing until you can see water lines.
Discharge ink from the exhaust pipe, and then wash the head with cleaning liquid. Repeat this operation several times until the ink appears transparent.
If it washed with ultrasonic, the ink in the nozzle cavity should be cleaned. It's OK to immerse the nozzle surface to 2mm below the liquid level. The time of each shock should not exceed 1 minutes.
When cleaning the ink pipeline, printheads should be removed independently, and it is forbidden to directly press the remaining liquid in the ink pipeline out of nozzles.
That's what I want to talk about today. All these points are based on YOTTA's digital flatbed UV printer. If you use printing equipment of other brands, you should get the corresponding standard operation processes from your printer supplier.