In the expectations of many customers, YOTTA finally launched her new textile printer model – YD-T1804SG direct to garment/textile printer. So far, we have a complete production line of flatbed UV printer, hybrid printer, roll to roll printer and digital textile printer, fully meeting the needs of customers from different industries, which means that we are a step closer to our goal.
Next, let's have a closer look at it.
In printhead configuration, YOTTA's YD-T1804SG employs StarFire1024 printhead which is widely used in European textile printing industry, also known for its repairable structure. It means you can save a fee for printhead replacement. In addition, StarFire1024 head is featured with internal heating function and innner loop function, which makes it easy to be maintained. The printhead quantity of YD-T1804SG is 2-4pcs.
In the textile transmission, YD-T1804SG digital textile printing machine uses professional conduction band delivery technology, which makes it can transmit fabric without tension. It effectively avoids the problem of cloth stretch and shrinkage deformation. So the YD-T1804SG printer can be applied to elastic and non elastic textiles printing. Besides, there is a correction system to remains the conduction band in the middle position, so to ensure the high accuracy of printing.
For the drying system, YD-T1804SG digital textile printer uses fast infrared drying: multi-tube infrared medium wave heating, drying fabric in a very short time, printing and drying linkage control mode. It is more efficient and stable. Besides, independent drying system is optional according to actual requirements.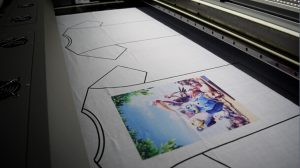 In addition to the above, the YD-T1804SG can be used to high speed print on garment, the fabric type can be cotton, flax, silk, polyester, cashmere, towel, etc, covering the entire garment and textile indutry. It delivers 1.8M print width, supporting C, M, Y, K, white ink, and reactive, acid, disperse, pigment ink are all compatible.