Here has a good news for those customers who want to expand roll to roll printing business: YD-R3200R5 – UV digital printer for soft materials, has been developed and introduced now.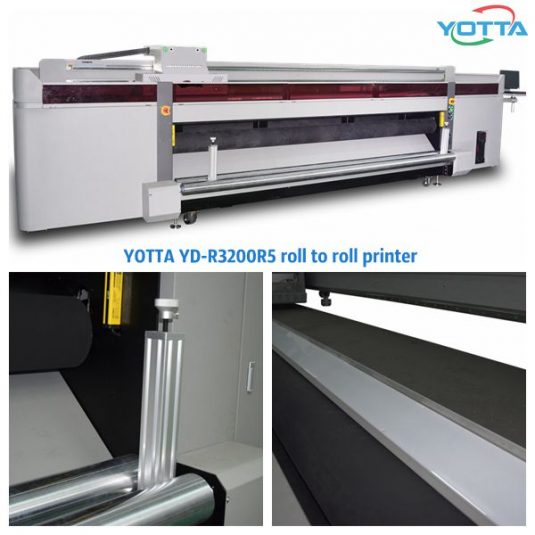 "We are very excited about the introduction of this model. It will be greatly convenient for those customers with only roll material printing, for example, wallpaper, canvas, vinyl, PVC cloth, etc. We has launched several models of hybrid printer before, which are very cost-effective for printing both flat materials and roller materials. However, it is not a good deal for only roll to roll printing, and this leads to the birth of YD-R3200R5. We hope that this machine can make more profits for our customers with more reasonable cost," said our general manager.
"YD-R3200R5 roll to roll printer is an equipment worth waiting for, " Mr. Wang, our R & D manager expressed during the development of the machine, "It will adopt Ricoh Gen5 industrial inkjet printhead which featured 7pl-21pl variable ink droplet printing and stronger service life of nearly 5 years ideally. In structure, we continue to use integrated steel frame and beam treated by tempering, to ensure the stability and durability of the equipment from the source. In a word, it will be your powerful weapon."
YOTTA's YD-R3200R5 UV roll to roll printer has the maximum print resolution of 600×2400dpi, able to create photo-level printing results. Its normal speed can reach 29M²/hr, but certainly, the actual data must be determined according to printhead quantity. In our R & D manager's words, it will be trenchancy weapon for soft materials.