We all know that printhead is like a soldier's gun, because it makes a decisive influence on a printing device. For our new digital textile printing machine – YD-T1804SG, YOTTA uses StarFire SG1024 printheads, industrial textile print head launched by FUJIFILM Dimatix Company, which is almost able to meet the needs of a variety of high-standard industrial inkjet printing. So, what the print head excels?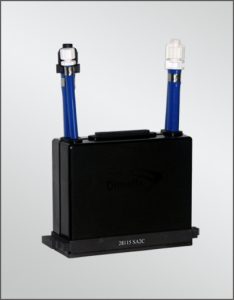 RediJet internal recycling technology
StarFire SG1024 printhead adopting RediJet internal recycling technology, extends working time, reduces downtime and start-up time by continuous ink circulation flowing through the ink chamber of the nozzle interior and the nozzle plate. It is very suitable for inks that are high concentrated, easily precipitated or quick-drying. Sometimes, it is prone to nozzle clogging during inkjet printing and the operators have to stop printing to perform ink pressure maintenance. However, the advanced Redilet internal recycling technology achieves the fastest and most convenient ink filling with the lowest ink loss, and completely eliminate print head clogging caused by ink sediment and bubble interference, freeing the workload, and inkjet printing is become easy.
Ver-saDro variable ink droplet printing technology
Ver-saDro variable ink droplet printing technology goes beyond the general grey scale printing for it achieves the control and application of ink droplet size in the true sense. It allows you to set the combination and size of ink droplet at will for full gray inkjet printing without any effects on production efficiency. Even you change the ink, it won't affect the patterns for the nozzle has a super compatibility with inks. By adjust the droplet size, a variety of print mode can be set in the same machine without replacing printheads. Variable droplet printing helps to achieve perfect color transition.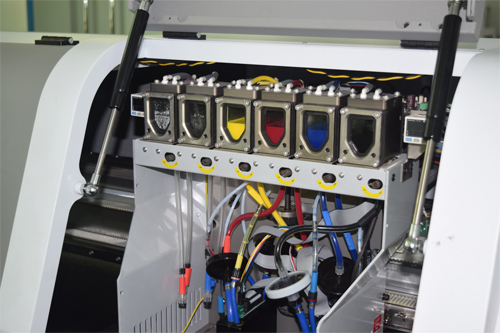 High-density nozzle design for high-speed and high-resolution printing
StarFile SG1024 print heads array nozzles with superior performance on a single-nozzle panel, providing it stable and reliable ink-jet printing and long service life. Each printhead has 1024 individually controlled nozzle channels in eight rows parallel to the single-piece nozzle panel with physical resolution of up to 400dpi, and all the nozzles can drive the inkjet independently or simultaneously. In the production speed, the amount of ink out of SG1024 is 2 times more than similar products, which means 2 times faster in production speed.
Repairable nozzle structure
Printhead is the core component of inkjet printer and is a consumable. However, print head damage is unavoidable for nozzle clogging, blockage of the ink system or scratching of the nozzle panel for various reasons. For generally printhead, we have to replace the entire head encountered these situations. However, with repairable performance, "Blocking a nozzle, replace the entire printhead" becomes a history for StarFire SG1024. Besides, each part of SG1024 can be disassembled, cleaned, repaired, replaced and repositioned precisely. It greatly reduces the total cost and long-term use cost.
Eyeing high-quality multi-color printing and superior performance, with StarFire SG1024 inkjet printheads, YOTTA YD-T1804SG textile printer achieves more convenient, more economical and faster textile printing business with delicate printed patterns.