What kinds of printer inks are there?   Shenzhen Yueda Printing Technology Co., Ltd.will tell you how to classify the printer ink. What are the factors affecting ink printing in uv printers.
1, Classification by color base
Dye-based ink, which is dye-based ink, is also the ink used in most inkjet printers.
Pigment-based ink — an ink based on a pigment.
2, Classification by solvent
Water-based ink – water and a water-soluble solvent are the main components of the dissolved chromophore.
Oil-based ink – a water-insoluble solvent is used as the main component of the dissolved chromophore.
The above concepts cross each other during actual use. For example, some pigment inks may be aqueous inks or oily inks. However, in terms of its nature and the actual requirements of the printer, water-based inks and oil-based inks are never allowed to be mixed in the same printhead. The shelf life of ink is generally two years. The preservation of ink requires sealing, avoid direct sunlight, and the temperature should not be too high or too low. (Normal room temperature is ok)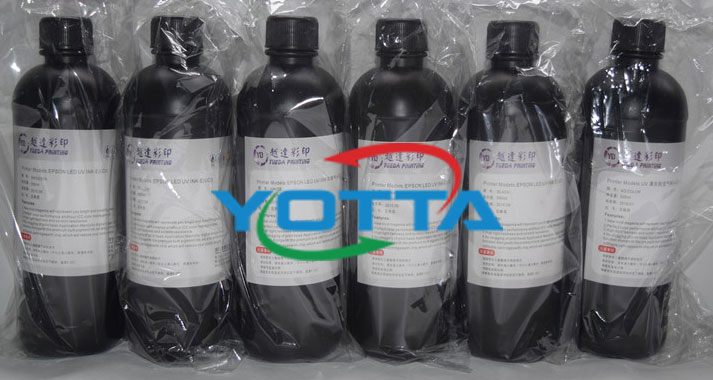 The factors that ink affects printing:
Viscosity and surface tension: Viscosity is the resistance of liquid flow. The surface tension of liquid is related to the ability to form droplets. In general, inkjet inks should have a low viscosity and high surface tension to ensure good flowability and liquid droplet.
PH value: It means the concept of liquid pH. The more acidic the solution, the lower the PH value. Conversely, the more alkali the solution, the higher the PH value. To prevent ink from eroding the printhead, the pH should generally be between 7 and 12. AJ, ink 9000 inks generally have a pH between 7.0 and 8.0, which is basically close to neutral.
Conductivity: In the ink, the conductivity value is used to reflect the level of salt content. In general, the salt content should not exceed 0.5% to avoid crystallization in the nozzle, the salt content of the AJ ink is less than 0.3%; the salt content of ink is less than 0.01%.
Dispersant: A kind of surfactant. Its main function is to improve the physical properties of the ink surface and enhance the affinity and wettability of the ink and the sponge.
Most of the general consumables make a fuss about pigment inks and dye inks. Many Epson printers use pigment inks. Because the production process of pigment inks is relatively difficult, most of the domestic general-purpose consumables are replaced by dye inks. The introduction of pigments inks will also have a certain impact on the ink market. However, the price of pigment inks is still very high, and dye-based inks still dominate the market. Of course, general consumable manufacturers can also make pigment inks, but the price is relatively expensive, so be sure to pay attention to this when purchasing inkjet printer general consumables.