Nowadays, more and more customers are engaged in the home decoration industry, they need ceramic background wall uv printer.
But most customers don't know how to choose the right one.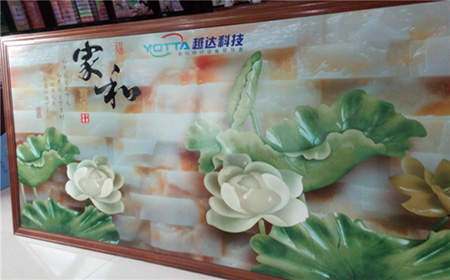 You can choose the suitable uv printer as below:
1.Print size.
UV flatbed printer manufacturers produce uv printers with different print sizes according to different requirements.
Yotta for example: YD-F2513R5 (print size 2.5*1.3m) and YD-F3216R5 (print size 3.2*1.6m),YD-F3020R5 (print size 3*2m), you need to choose the right size according to your material.
2.Print speed.
The print speed determines the output, you need to estimate your daily output to choose a printer with different print heads.
For printers with the same size, for example, YD-F2513R5/YD-F2513KJ, same print size 2.5*1.3m, YD-F2513KJ uses the world's top Kyocera print head, which is the fastest printhead in the market. YD-F2513R5 uses Ricoh Gen5 print head, which has moderate speed. (Please contact us for speed details)
3.Print effect.
UV printer basic four-color CMYK, if you need better gradient color, you can add LcLm; if print dark material or embossed effect, you need to add white; if the surface needs to do exquisite bright effect, add varnish is best.
When talking with the sales, you need to tell us what the printed material is, the maximum print size, what effect you want, how many products you need to print in one day, then the salesperson will recommend the most suitable model for you.
Of course, if you don't know the size, you are not sure about the output and effect. The professional sales staff from Yotta will recommend the most popular model and configurations in your market. Please don't worry about getting the right machine.
Feel free to contact us and choose the most suitable ceramic background wall uv printer for you!
More details, contact us now!