You can often find that UV flatbed printer print on some substrates, even or uneven, but that does not mean all. Can you image that it can also print on glass bottle?
As a culture, "wine" has a long history.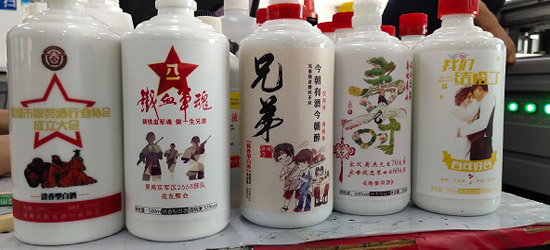 You can always taste all kinds of wines in some occasion such as birthdays party, weddings, glee feast etc. With the continuous improvement of people's quality of life, the feeling of people to wine is not only taste, but also appreciate, appreciate it's design and package mainly. More and more people like to collect special wines from different brands of different ages and bottle shapes. Therefore wine is also developed to be a kind of high-end gift. However, it is not an easy job to print special picture or texture on the wine bottle. In the early stage, the outer package of the bottle was mainly in the form of a sticker; as time goes on, the sticker was easily broken or even the whole piece fell off.
Personality customization is the mainstream of modern society, sticker bottles are no longer able to meet current customization needs.
At this time, the method of print on glass bottle with a uv printer was born. What worth to mention is that YOTTA as a manufacturer of digital UV printer in China, they have launched a UV printer which can print various text or patterns directly on the bottle and its packaging box. We can print some special design or text messages on the bottle or its package, so to make the wine with higher market value and collection value; we can also direct print according to customers' desire, thus to achieve 'Personal Tailor'.
This is not limited to only glass bottle, ceramic and metal bottle are workable. For some special materials, primer is necessary for increase ink adhesion.
At present, the comprehensive performance indicators of uv flatbed printers mainly include: print resolution and interface, ink cartridge, print size, print speed, print length, memory, hard disk, drawing language, CPU main frequency, and network connection, etc., which directly determine the quality of the device.
Secondly, when selecting the UV flatbed printer, select according to your actual situation, such as, personnel, print volume, capital, plant, printing substrates and other factors, comprehensive consideration of resources.
Currently, UV flatbed printers support the printing of most flat surface substrates, which can be applied to the TV background wall. It can not only print patterns with photo quality, but also print out various kinds of effect, such as 3D and embossing effect. Moreover, the print products are durable and it does not fade, moreover it is moisture-proof and ultraviolet-proof; generally the vivid color can last for 10 to 20 years without change.