Does the UV printer really need to use factory original uv ink?
Can the Customer use other UV ink instead of the manufacturer's?
Must the UV printer use the manufacturer's ink?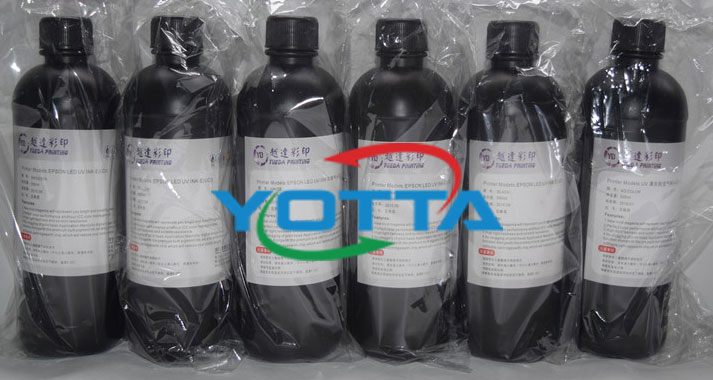 The user of UV printer knows that when the machine is purchased, the UV printer manufacturer will repeatedly emphasize that the manufacturer's ink is required. Otherwise, the machine is out of guarantee . So why is that? Here are some reasons:
Firstly, it's connected with the print head.
Different UV printer nozzles have different material types, internal channels, electronic transistors, ignition frequency, and nozzle diameter. This requires that the UV ink should conform to the characteristics of the nozzle itself, otherwise the printer can not work well. What more, it could damage the nozzle.
Secondly, it's connected with the UV ink.
As a UV printer manufacturer, Yotta has been tested all the UV ink on different the materials such as coatings, varnishes, and white inks before leaving the factory to ensure compatibility, water resistance, scratch resistance and resistance. If the ink is replaced, it will not achieve the expected results, which may cause to easily fading, falling off and other anticipated consequences.
Thirdly, it's connected with the after sale services.
When a customer buys a machine, Yotta will not only make sure the machine runs well, but also make sure the printing effect is good. What' more, according to the printing material, Yotta will distribute different ICC profile to make the color vividly. All these are professional. Most customers can not do these well without professional knowledge or professional equipment.
Last, it's connected with the LED lamp.
The wavelength of the LED must match the UV ink, otherwise, the UV ink cannot be cured. Meanwhile, the power of he LED is also important. If power is too strong, the LED may damage the material because of the heat. If power is too small, the ink can't be cured completely.
All in all, it's best to use the original UV ink of the manufacturer. If customers change to use other ink, they will lose not only the after sale guarantee, but also big money. What more, changing ink will cause big problems.