The CGE China Guangzhou Glasstec Expo will take place from 27 August to 29 August, 2018. YOTTA will attend this three-day exhibition, as a glass printing solution provider.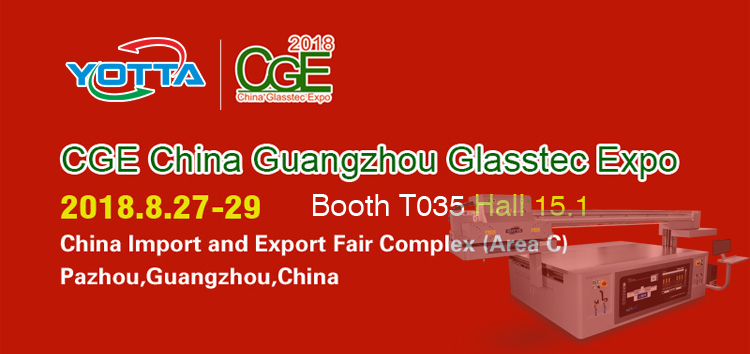 The CGE is one of the professional glasstec fair in South China, at the same time, China is the large producer, exporter and consumer of glass. More than 500 exhibitors will attend this expo. The range of exhibits include architectural glass, engineering glass, laminated, color printing, mosaic and other glass products, various glass manufacturing machinery and processing machinery, raw materials and other related products.
Being a professional printing solutions for various materials, our remarkable heightening flatbed printer – YOTTA YD-F2513R5-40, which is also widely used at glass printing, will be shown on this expo.
At the CGE Guangzhou 2018, we are going to show you the most representative UV printing solutions, which is also notable in the whole UV printing industry, with great experience.
About YD-F2513R5-40 printer
Heightening flatbed UV printer YD-F2513R5-40, 2.5mx1.3m print size, featured with unparalleled 400mm print height, equipped high-performance Ricoh Gen5 industrial printheads, delivering high print resolution of 2400*600DPI, is a high-performance printing solution for glass, custom wine boxes, notebook edge etc.