What is a flatbed printer? In short, flatbed printer refers to a printer that delivers printing on flat materials. Actually, it can divided into mainly 3 kinds of equipment: flatbed screen printer, flatbed laser printer, flatbed inkjet printer. According to ink used, flatbed inkjet printer can be subdivided into flatbed UV printer, flatbed eco-solvent printer. Although the original definition of flatbed printer is so wide, but with the popularity of UV inkjet printing, we more generally think that it is flatbed UV printer.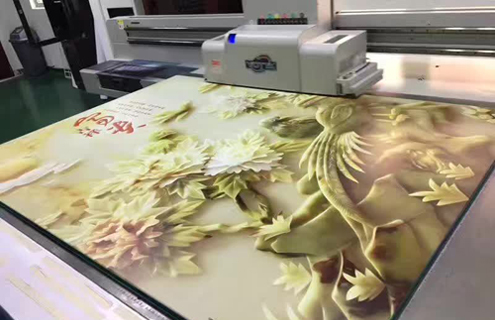 A flatbed UV printer is an equipment to reproduce digital images on a wide variety of flat materials through non-contact (inkjet) printing. It is not subject to the type of material, rigid and flexible acceptable, such as wood panel, glass sheet, leather, PVC, metal panel, plastic film, etc. Generally, there has a maximum flatness range of the materials. For example, YOTTA flatbed printer requires curvature of not more than 7 mm. During the whole printing process of flatbed printer, no plate needed, and digital technology makes it more convenient and simple to use with lots of automatic functions, such as material thickness measurement function YOTTA printer featured.
Flatbed UV inkjet printer use UV curable ink which can be fasted cured on substrate surface. Its curing time is very short, therefore, the print can be used immediately once the printing finished (if you don't need post-treated coating).
At the early states, UV flatbed printer used mercury lamp for ink curing. But it delivers too much heat when working and its preheating time is a bit long. With the development and maturity of surrounding technologies, now LED UV lamp becomes the main stream of ink curing resource in digital inkjet printer industry, which is more energy-saving, versatile, and efficient. Because of the advantages of UV LED curing system, UV LED flatbed printer has become a trend.
YOTTA is a professional manufacturer in China with over 8 years of experience. Our flatbed printers are equipped with LED UV curing system, delivering full-color printing onto a wide arrange of materials with strong ink adhesion and high quality. More about UV LED flatbed printer, welcome to our website: https://www.yottaprinter.com.